Dogtopia's Noble Cause Provides Employment Opportunities for Adults with Autism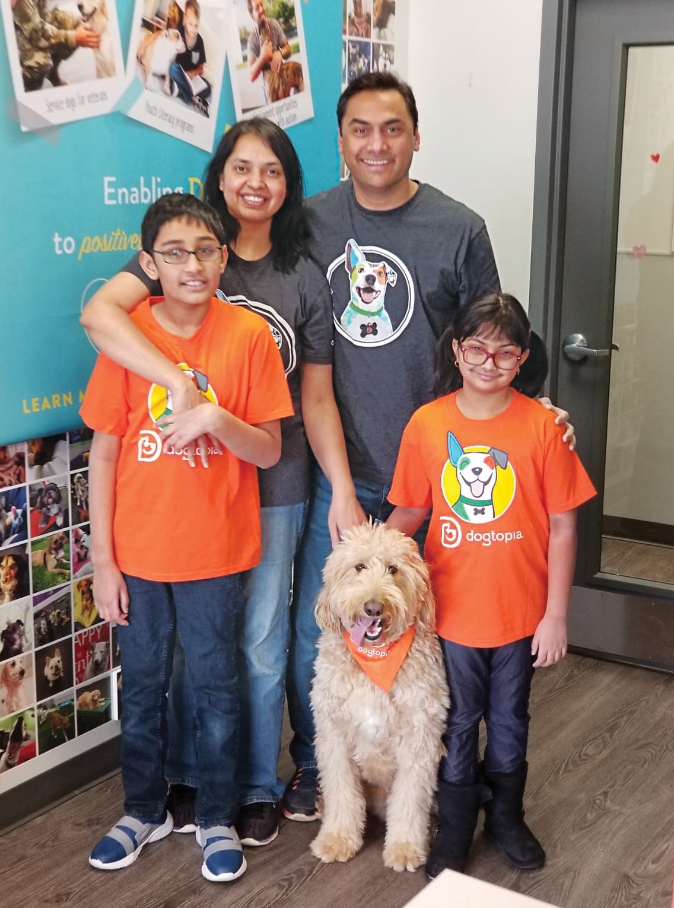 When husband-wife engineers Girish Rao and Radhika Dontaraju in Olathe, Kansas wanted to get into the pet industry, they never imagined the alignment Dogtopia could have with their own lives.
"We were looking to do something with a smarter approach to the service industry that was organized and standardized," said Girish. "We took the steps and came to learn more about Dogtopia and that's when we were introduced to the Dogtopia Foundation. That was a game changer for us."
Dogtopia, North America's leading and fastest-growing dog daycare franchise, offers its services to pet parents at more than 150 locations. The Dogtopia Foundation's mission, known as its Noble Cause, of "enabling dogs to positively change our world" is brought to fruition through three worthy causes including providing adults with autism job opportunities in Dogtopia daycares.
Nationally, it is reported that approximately 90 percent of people with Autism Spectrum Disorder (ASD) are unemployed or underemployed. Over the next decade, it is reported an estimated 500,000 teens with autism will enter young adulthood and will be seeking employment.
For Girish and Radhika, this cause hit very close to home – their son, age 11, is on the autism spectrum.
"We knew our son may have trouble finding employment as an adult," said Radhika. "We thought, 'we can always put funds aside for him, but then what?' When we heard about the work Dogtopia is doing to help lower the unemployment rate for adults with autism, it opened a future not only for us, but for our son, too."
As Girish and Radhika set out on their journey, they visited a Dogtopia in Virginia and met several of the 10+ employees with autism working in the dog daycare. "It was amazing how well the team embraced these adults," said Radhika. "It was really heartwarming."
Now, in their own daycare, Dogtopia of Olathe, Kansas, which opened in November 2019, they have hired three full-time employees and one intern on the autism spectrum. For the internship, they partner with the Olathe School District to support their local career transition program that brings students with learning disabilities to Dogtopia to learn and grow.
"We asked ourselves – how do we enrich the lives of adults with autism?" said Radhika. "But frankly, it has actually empowered our team to be more open and embrace different kinds of people."
The beauty of Dogtopia, they say, is that there is a role for everyone – it is about finding balance and understanding the perfect role and needs for each employee (those on the spectrum and not).
"This business is an intersection of all the good things for us," said Girish. "When we found Dogtopia we were convinced in our brains. When we found the Dogtopia Foundation, we were convinced with our hearts."
Through the work of the Dogtopia Foundation, Dogtopia is committed to empowering adults with autism to learn, grow and build their career.